FinMasters content is free. When you purchase through referral links on our site, we earn a commission. Advertiser Disclosure
Do you enjoy working with kids? Do you have experience teaching and have a specialty of some kind? Teaching online with Outschool has opened doors for many teachers around the world to make an income teaching what they're most passionate about, setting their own schedules and prices, and having the freedom to work remotely!
As an online music teacher, it's allowed me to earn up to $130 per hour, travel more, and build a career for myself outside the traditional classroom setting.
If you're interested in teaching online and earning an online income working with kiddos, I'll walk you through the process step-by-step.
Jump to:

My Story

What is Outschool?

Pros and Cons of Outschool

How to Apply to Outschool

How To Create Your Outschool Teacher Profile

Outschool Class Types

Creating Your First Class

Increasing Your Enrollments

Common Mistakes New Outschool Teachers Make

My First Year
My Story: How I Got Started Teaching Music Online With Outschool 👩‍🏫
I was an elementary music teacher from 2016-2018, but after only 2 years, I ended up quitting my job to fulfill another huge dream of mine: living abroad!
I loved teaching in the classroom, but I also knew that the longer I waited, the more responsibilities I would take on and the less likely it'd be that I'd travel full time so I quit my job and ended up moving to Prague in the Czech Republic.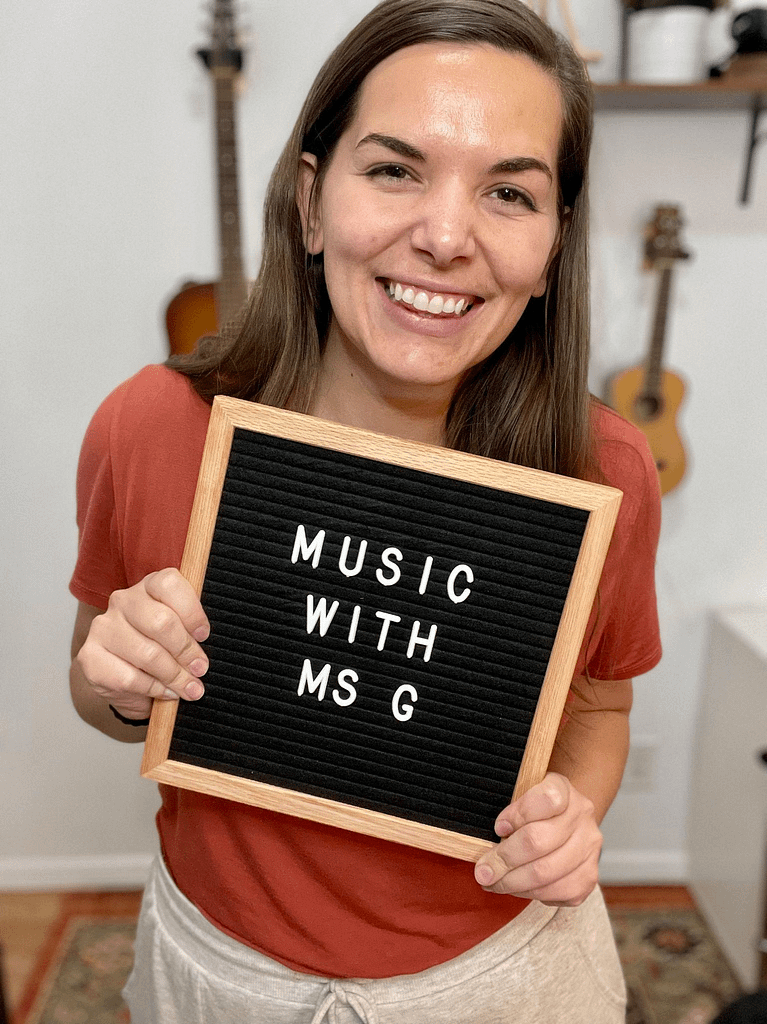 I taught English both online and in-person in Prague, which actually got me started in the online teaching scene.
My online teaching income was able to fund my travels all throughout Europe and Asia for two years, even back when I was making only $13-20 per hour. 🧳️
By the end of my travels, though, I was hugely broke and missed teaching music instead of English, so I headed back to the US just 3 weeks before the pandemic hit. Due to Covid, I lost my substitute teaching job, moved back in with my parents, and was waking up to teach English online at 5 AM every morning. Truly the lowest of times!
But in May of 2020, I heard through the online teaching community (thanks YouTube) of a new platform called "Outschool". It was an online marketplace for classes for kids where teachers could create their own classes, pick their schedules, set their own prices, and teach through Zoom. I applied immediately, was accepted within 24 hours, and within my first 3 months of teaching, I made $24,000!
Needless to say, it has completely changed my life.
I've now been teaching online full-time with Outschool for about two and a half years, have grown to become an organization where I hire other teachers under my profile as well, and even help other teachers grow their own online teaching businesses on the platform!
💪 What I thought would be a simple side hustle has become a fulfilling and lucrative career for me.
So What is Outschool, Exactly?
Outschool is an online marketplace of virtual classes for children. There are currently over one million students registered on the platform in nearly 200 countries.
👩‍🏫 They have more than just music classes: they also have full-curriculum classes, math, arts, science, coding, life skills, games, and more.
Teachers can apply to teach for the platform, and once accepted, they can develop their own classes, including the topic, class length, number of learners per class, class schedule, and price per student.
Families use the search features on Outschool to look for classes they hope to take and then register for the class that best suits their wants and needs.
Outschool Requirements for Teachers
Outschool's requirements to teach for the platform are relatively basic:
The minimum age is 18.
Teachers must reside full-time in either the United States, Canada, Australia, New Zealand, England, or Wales.
Teachers must pass an identity verification and background check.
They also require that class topics are secular and objective.
Teachers must have a reliable internet connection.
🎓 They do not require a bachelor's degree, just that you have a specialty of some sort that you are passionate about, and that your classes will be centered around.
Let's Talk Pros and Cons of Outschool
Every job and every side hustle has advantages and disadvantages, Here are some of the pros and cons of Outschool.
Outschool Pros ✔️
The biggest advantage of teaching for Outschool is its student base. They have over one million students on the platform and are constantly marketing through Facebook ads, Instagram ads, and more. They are the leading company for online classes for kids. Not to mention, the students are typically wonderful to work with. I rarely ever have behavioral issues, and students are usually very motivated and excited to learn!
They also allow you to set your own prices as a teacher. The way this works is you set a price per student for each of your classes, and the amount you earn is based on how many students sign up.
👉 For Example
You can price your class at $10 per student, and if you gain 5 enrollments, you'll generate $50 from that class.
Outschool does, however, take a 30% cut of your earnings.
Outschool also provides many tools for teachers through the platform, like scheduling, classroom pages where you can communicate with families and post materials, Zoom integration, and more. And it doesn't cost anything at all to get started on the platform!
Outschool Cons ❌
The biggest con for teaching for Outschool from a teacher's perspective is the fact that Outschool takes a 30% cut of earnings.
👉 For Example
If you charged $10 per student and got 5 students, you generated $50, but you only take home $35.
But honestly, the number of students your classes are exposed to as a teacher is well worth the cost. I can only imagine the time and money you would have to put into marketing online classes independently without the platform.
One other con is that Outschool does not allow you to take communication with families off of the platform. This means you cannot get family's phone numbers, email addresses, social media contacts, etc. They do this, of course, to avoid you taking students off the platform to avoid the 30% cut that they take, but it can be frustrating to only communicate with families on the OS platform.
Another con is that the platform has become much more saturated with teachers in the last couple of years since its boom in 2020. The more teachers who come to the platform, the more classes are listed on the marketplace, making it more difficult to stand out among the competition.
💡 Tip: The way to get around this is to make a great profile, create classes that are in demand by families, and be clear about what makes you unique.
Okay, I'm Ready to Apply!How to Apply to Outschool
To apply, head to 👉 https://outschool.com/teach.
The application process is broken down into three main parts:
About you (Your experience)
Your class (You'll give an example of a class you want to teach on the platform)
"Teach us" (a 3-5 minute video of you showing a demo of your sample class)
You'll complete a written application describing yourself as a teacher and your experience, then you'll film a short video where you will teach a short lesson to show off your teaching style, personality, and engagement as a teacher.
Tips for Applying to Outschool
👉 A great tip to follow when completing your Outschool teaching application is to focus on a niche.
As you complete the written portion, include the information about your experience and passions that is centered around that niche and is written in a way that makes you come across as an expert in that topic. When you create your class and video portion, do so with a class that is in that niche as well to set yourself up as a teacher with a clear specialty.
👉 I always recommend that teachers be as descriptive and detailed as possible in their written application.
Include information like the number of years of teaching experience you have, the ages of students you've worked with, how many students you've taught at one time, how often you met with students, what topics you covered, what type of learning did you do (Montessori, Kodaly-based, Suzuki method, etc.), and more.
How I Earn Up to $130/hr Teaching Music on Outschool 🎵
👉 For the video portion, make sure to show off your personality, professionalism, and ability to engage students!
Have a classroom background of some sort behind you, like a blank wall, some books, or a virtual background. For the video content, I would start with a quick intro (maybe 30 seconds long), then teach for the rest of the video. I even recommend editing the video in something like iMovie or Inshot to take out the "um"s and pauses and make it even more professional.
How To Create Your Outschool Teacher Profile
Once you've been accepted to teach for the platform (yay, congratulations! 🎉), you can start by creating a teacher profile. This is a way for families to learn more about you as a teacher.
There are two main parts of your teacher profile: your description and your profile video.
📝 In the description, use this as an opportunity to tell families about yourself, your teaching experience, what you specialize in, your teaching style, and maybe some fun facts about you.
📹 In the video, make sure to show off your personality, teaching style, and what makes you different and unique as a teacher. I recommend making it as polished as possible, and basic editing skills can help you produce a professional video. Remember, people's attention spans these days are only 8 seconds long!
Outschool Class Types
Next up is creating your first class! There are four main types of classes on the platform: one-time classes, multi-day classes, ongoing classes, and flex classes.
1. One-time Classes
One-time classes only meet once and are a great way to introduce students to your community and build connections. It's also a great way to start as a new Outschool teacher to get familiar with the platform.
This curriculum is usually designed around a project or a singular skill. What's awesome about that is you can recycle the same lesson over and over for every class, but the challenge is to get new students every time.
💡 Some examples of one-time class ideas are "How to play the Happy Birthday song on Ukulele" or "Cooking the best spaghetti and meatballs".
2. Multi-Day Classes
Multi-day classes are classes with 4 or more meetings. There are 3 types: Short-term, Semester classes, and Camps.
2.1 Short-Term Classes
These classes meet at least once a week for 4-7 weeks. These are great for building a more complex skill. Lessons build on top of each other for the entire course.
💡 Some examples of short-term classes are "Create A Beat in GarageBand", or " Animate Your Own Film".
2.2 Semester Classes
Semester classes meet at least once a week for 8 weeks or longer. This is great for topics that require continuous study to learn a concept or a skill.
💡 Some examples of semester classes are "Beginner Ukulele", or "Learn Basic Spanish."
2.3 Camps
Camp classes meet 2 or more times within a week. They may have different weekly themes and are most popular during school breaks, like over the summer or winter.
❤️️ I personally love teaching summer camps and usually teach mine Monday-Thursday over the course of one week for 30-50 minutes each day.
3. Ongoing Classes
These classes meet once or more a week, with no set end date. Families pay a weekly subscription fee, and students can enroll and join at any time, even without attending any of the previous classes.
These lessons are designed so that students can easily join the class without any prior knowledge. The good thing about this class is that when one student leaves, you can always fill the spot with a new one.
💡 An example of this would be a "Guitar Club" where students are expected to be able to play certain chords before joining, and they simply learn a new song each meeting.
4. Flexible Schedule Classes
These are pre-recorded classes that students can watch at their convenience. These last for a minimum of 4 weeks, and Outschool requires teachers to outline very clearly how students are going to interact with them and the rest of the class.
1-on-1 or Group Classes
You may choose to teach any of the class types above in a 1-on-1 setting, or a group setting.
With a 1-on-1 class, you can tailor the lessons specifically to the needs of the student, and you can also use it as an extension of your group classes, expanding or complementing the topics you're learning in the group classes.
Many families go for the 1:1 option for a more intimate class experience and so students can get more support, and these are a great way to boost your income on the platform since you can charge more per student.
Creating Your First Outschool Class
The first type of class teachers usually begin with creating is a one-time class since it is generally the simplest one.
💡 Before deciding what class to create, I recommend doing some research to see what types of classes within your teaching niche are doing well. Make sure that you're bringing something unique to the platform.
As you're creating your class listing, the main items you have to provide are the Class Title, the Parent/Family Summary, the Class Subject, the Course Type, the number of learners, the course description, the pricing, the first message to learners, and the refund policy.
Class Title
Some tips for creating a great class title are:
Use SEO keywords – One of the most important things to consider when creating your class titles is SEO or search engine optimization. This means that you need to use words or a combination of words that families actually type in the search bar when looking for classes. This increases the chances of your classes showing up in search results.
👉 For example, I might use "Beginner Ukulele", "Beginning Ukulele", or "Ukulele for Beginners" for my class titles because those are the actual words that families use in search.
Make It Catchy – Showing up in search results is great, but you need more than that to stand out. Besides the SEO keywords in the class title, you might want to use catchy phrases and words that could get families to click on your class listings.
👉 For example, one of my class titles is "1:1 Lessons in GarageBand" or "Logic Pro with a Music Production Pro!"
Parent/Family Summary
This is something families will see about your class when scrolling through the search results on the platform. SEO also counts here, so make sure to add some keywords here to help yourself show up in searches.
I usually write what the students will learn in the course and/or the methods and materials that I will use to teach them. I do this using very clear and descriptive words with a definite call to action that they cannot miss. This is less than 240 characters, so make sure to squeeze in all those important bits.
👉 For Example
Join me for a 6-week course for the total beginner where we will master their beginning ukulele skills through chords, strum patterns, TAB, and fun songs through our weekly lessons + custom digital resources for practicing on their own!
Class Subject
There are over 140,000 classes and hundreds of subjects on the platform. These subjects usually fall into these major categories that you can choose from:
Arts,
World Languages,
Coding & Tech,
Music,
English,
Science & Nature,
Health & Wellness,
Social Studies,
Life Skills,
Math.
Number of Learners
You can have between 1 and 18 students in a class on the platform, but one great way to stand out is to have a lower class size to show you offer a more intimate class experience.
Course Description
In this part of your class listing, you'll add information about your class, such as the topics you'll cover, the schedule, the teaching method, etc. Descriptions are really important to convert families and get them to sign up, so here are some of my best tips…
Keep it Readable + Digestible – Make sure to make it easy for readers to understand what you're saying. Keep it short, and to the point, and use simple words to convey your message.
Use Bullet Points or Emojis – People's attention spans these days are so short that they'll often just skip paragraphs. Use bullet points or emojis to organize your points and make it easy for families to understand the important things in your class description quickly.
Organize the Text Into Sections + Add Headings – Make it even easier to read by organizing your descriptions into different sections, and adding headings in capital letters for each section.
Pricing
Figuring out what to charge can be difficult for a lot of teachers.
My general rule for 1:1 classes is to charge around $1/minute, but for group classes, Outschool recommended charging around $10-12 per learner per hour-long class (prorated based on how long your class is).
A few months back, they changed their recommendation to a new range of $18-20 per hour instead, but honestly, I don't think teachers are following that advice.
☝️ There is no one right answer, but one tip is to be sure not to underprice yourself because families may undervalue your class when they see it's the cheapest one on the platform.
First Message to Learners
This is usually the first interaction of families with you, so this is your chance to impress them with your message.
These families don't really know anything about you, and how you talk to them will determine whether or not they will feel happy and satisfied with their purchase.
💡 Some ideas for what to include are a warm welcome and a checklist of things that they need to prepare or anything they need to do before class.
Refund Policy
The refund policies on the platform depend on different circumstances. You can read more about them here.
It's up to you what you choose for your classes. I always follow the strictest policy, but it's up to each teacher and what they're open to.
Class Video
Video is the best way to connect with families quickly and gain enrollments.
You don't need any fancy equipment for this. You can simply shoot it on your iPhone and edit it on iMovie or have someone edit it for you.
💡 Some tips for making a great class video are to use natural lighting, to look professional, to keep it under 60 seconds and have a hook in the beginning, to smile and show off your fun and engaging personality, and to write your script and practice out loud before your record.
Increasing Your Enrollments
Once you've started your Outschool journey, you'll want to increase your enrollments and your income, Here's how you can do that.
1. Getting Views On Your Classes
One important way to ensure families start seeing your class is to schedule it. If you do not schedule it, it doesn't actually show up in the search feature on the platform, so families won't see it.
💡 A tip to show up higher in searches, other than SEO, is to schedule as many sections as you can, because the more sections you schedule, the higher up in search your class usually appears.
2. Creating More Classes
After creating that first class, the next best step is to continue creating more classes.
To put it in perspective, I have about 78 classes I've created over the course of my two and half years of teaching on the platform. Currently, I only offer about 10 of those classes, while the rest sit in my archives.
Not every class you create is going to succeed, and it may take some trial and error to start increasing your enrollments and your earnings.
3. Focusing On Recurring Students vs. New Students
My favorite type of class on the platform is the ongoing class, which meets each week for an indefinite period of time. Technically students can enroll or un-enroll at any time, but it is common that the same students remain enrolled from week to week.
This is a great class type to use to grow your teaching business because you can start to focus on gaining recurring students, one that will continue to return to your class each and every week, rather than finding new students each week. This applies to both 1:1 classes, as well as group classes. This way, you can also build a recurring income that you can begin to rely on each week.
4. Improving Your Class Experience
Whenever students join your class, you want to make sure that their experience working with you from start to finish is a 5-star experience.
This means having an awesome welcome message, forming a great connection with the student as soon as you start class, planning a lesson that is engaging, fun, and effective, and sending a thank you message after class that invites them to re-enroll or remain enrolled next week, and to have a suite of classes that allows for families to return from week-to-week and work with you long term.
Common Mistakes New Outschool Teachers Make
There are some key mistakes I've noticed that teachers make, including some I've made myself. If you're getting started on the platform that you should definitely try to avoid them.
1. Teaching Everything
Niching down to a specific topic that you specialize in as a teacher is a great way to set yourself up as an expert and to gain the trust of families from the start.
By doing this, you can also attract the type of students and families that you truly want to work with, and you can set yourself apart from the competition.
2. Focusing On One-Time Classes
Many new Outschool teachers try to focus on 1-time classes because they are very easy to plan, and they can teach the same class every time, just with new students, so it's low-key and low-commitment. The big challenge here is that you'll have to look for new students every time you teach.
The best way to really build a reliable income is to have recurring students. That means offering ongoing or multi-day classes that students can remain enrolled in long-term.
3. Recreating the Most Popular Classes
Taking note of what classes are doing well in your niche is super helpful to make informed decisions when creating your own classes, but since the platform has become more saturated with teachers in recent years, it's so important to bring something new, unique, and different to the platform.
You have to show families what is different about you and why families should work with you instead of with a different teacher.
4. Treat It Like A Business
Treating something like a real business rather than just a side hustle requires a mindset shift and some practical steps.
☝️ Some key steps to consider are developing a plan, setting realistic goals, and taking steps toward these goals every single day, prioritizing the time you're working on building your online teaching business.
My First Year On Outschool In Review
To put in perspective what is really possible with this platform, my total pay in my first year of teaching on Outschool was nearly $69,000 USD, teaching an average of 16 hours per week. That is an average of over $85 per hour!
Overall, the ability to create my own schedule, work from home, teach, and travel simultaneously – while surpassing my old classroom teaching salary by $30,000 – in that first year made teaching at Outschool 1,000% worth it.
Teaching on Outschool isn't the right fit for everyone. No job or side hustle is. If you have teaching experience and a teachable skill, though, it can be either a flexible and productive side hustle or a full-time career.
One of the great things about Outschool is that you can give it a try with no expense beyond a little time and effort. If you think it might work for you, try it! There's nothing to lose and potentially a great deal to gain.
FAQs
How to Earn Thousands on Outschool
Teach what you're passionate about.
Provide multiple class days and times.
Offer classes around breakfast, lunch, and dinnertime.
Remember, Outschool has students all over the world, consider early and late times.
Practice your classes.
Make changes to your classes as needed.
Can you make good money teaching on Outschool? ›
Average Outschool Teacher hourly pay in California is approximately $22.78, which is 43% above the national average.
How do you get noticed on Outschool? ›
Invite followers

Your followers on Outschool receive email notifications whenever you post a new class. Parents who buy your classes become your followers. Get more followers faster by sharing your teacher page with parents you know and groups you're a member of.
What are the best times to teach on Outschool? ›
Outschool has learners all over the world, so teachers are able to get enrollments at various times. The most popular times tend to be Monday-Friday from 4am to 6pm Pacific. We would recommend experimenting with times and duration to find the best times for your teaching business!
Is teaching on Outschool worth it? ›
If you are a creative person, it could be the perfect platform for you! I think teaching on Outschool is worth it for teachers who are passionate about their subject, willing to put up with the trial and error of getting enrollments, are flexible to trying new things and creative.
Does Outschool take out taxes? ›
As an independent contractor or business owner, you are responsible for taking those taxes out of your payments, and Outschool will not provide you with a W-2 form. Instead, you may automatically receive a 1099-K form from PayPal if you live in the U.S. and meet certain income requirements.
Are people still making money on Outschool? ›
Outschool teachers can make good money

Some teachers on the site run multiple classes all year-round and they always fill up quickly because kids love the teachers, the subject matter or both.
How do taxes work with Outschool? ›
Outschool educators are classified as independent contractors for tax reporting purposes. Regardless of where you are located, it is your responsibility to report your earnings from Outschool appropriately based on your local and national laws. This applies to all payment types received from Outschool.
How can teachers make a lot of money? ›
Many teachers find opportunities to earn supplemental income by signing up to perform extra work at the schools where they work. Teachers can coach sports teams, volunteer as drama instructors, become debate coaches, chaperone school events or take on leadership responsibilities to earn more cash.
How can teachers make more money on the side? ›
Without a doubt, tutoring is one of the most popular side hustles for teachers. There are many different ways that you can offer tutoring services to students, including in-person sessions, online tutoring, or even providing coaching for standardized tests like the ACT or SAT.
You must be at least 18 years old. You must reside full-time in any of the 50 United States, Canada, Australia, New Zealand, England, or Wales (note that other UK countries do not apply at this time). You must have one or more expertise or passion that you will base your classes around.